For many hoopers, young and youngish, playing the game of basketball is synonymous with breathing. They just can't or won't live without it.  While it's easy to assume why a person loves the game (the list can go on and on) or when/where that passion originated, first-person information is much doper than third-person gossip.  So let's hear it straight from a bball lover's mouth.
Camera Miley is a rising point guard at Midwood High School in Brooklyn, NY.   Like many young student-athletes she has aspirations of taking her talents to the pro level.  The WNBA is tops on her list.  And in the off chance that that doesn't become a reality?  She'll become an athletic trainer or physical therapist for a professional team, of course!  Yep, basketball is still her "fall back" plan.  That's real love…
***
The Game I Love by Camera Miley
Since the age of 5 I have been playing basketball at a program called Claver Youth Program in Brooklyn, NY. This program started at my elementary school, Williston Academy. From there the program relocated to P.S.56, another elementary school. My whole love for the game started there, along with the help from my dad. I was the only girl in the program at the time and all the boys admired me, but they were also jealous of me because I was better than half of them. After being teased, a girl who played basketball as a hobby would have given up. Not I; basketball was more than a hobby to me even at the age of 5.
As the years went on, I continued practicing and watching the game of basketball.  When I was enrolled in junior high school, I was the only girl who played basketball as much as the boys. Throughout JHS I played in an all-girls high school tournament, Rose Classic. I was 10 years old playing against a ton of 14-18 year old basketball players. I kept playing, kept practicing, and kept watching professional games to become a better player. I never gave up, and I always had a goal to reach the next time I entered the gym or park.
I currently still play in Rose Classic and I have improved a lot. I continue to work out in the gym, even when basketball isn't in season. I play in the summertime as well as winter, spring, and fall. I enjoy the game of basketball, and I am willing to do whatever it takes to get to the next level.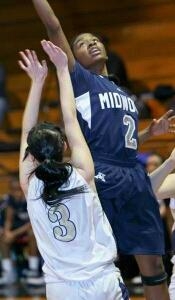 My supporters, parents, coaches, mentors, friends all help me reach my goal and I am very appreciative of them. The game of basketball gets me excited just watching it. Watching the professional games and college games just makes me more inspired to one day be where they're at. I love the competition, the blood, sweat, and tears put into the game just like any athlete would for the sport that they play. As I get older I see myself growing and growing a lot more as an individual player. I hope that one day all my hard work and hours in the gym pays off.
***
During a summer basketball tournament in 2009, Camera dropped 52 points. It's safe to say her that her hard work and long hours in the gym are already paying off.  By the way, her Mom provided that incredible stat.  Mom's are always the best score-keepers!
Keep dropping dimes, Camera. You'll be rockin' a fresh WNBA uni soon.